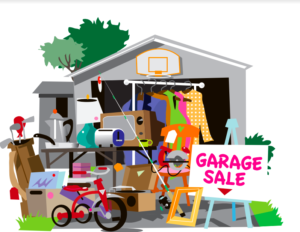 It's time to register for our 29th Annual City-Wide Garage Sale May 5th and May 6th, 2023!
The City-Wide Garage Sale is celebrating its 29th anniversary in 2023 and it will be our biggest one yet. What once started with 25 sales has now blossomed into a yearly tradition where the residents of Batavia come together to Spring clean and sell their stuff on the first weekend in May. This fundraiser is one of the biggest events that the volunteers of the Batavia Fireworks Committee host each year to help raise the funds to put on Batavia's 4th of July Sky Concert in Engstrom Park. In honor of this tradition and its 25+ years of success, we are hoping for a record garage sale year. Our goal is to have at least 250 garage and/or yard sales registered for this unique Batavia event.
Every year we publish a city-wide Interactive Map! Register early to secure your place on the map.
On-line registration and payment click here!
Download the Registration form to mail in application here!
The Batavia 4th of July Sky Concert is made possible by our Sponsors, fundraising events held by our Batavia Fireworks Committee, donations from our residents throughout the year, and this City-Wide Garage Sale.