Batavia's 4th of July Sky Concert
Here are the details for the 2016 show:
Location: 326 Millview Drive, Batavia
Savor the Flavor food vendors start serving at 5:00 pm
We're Not! takes the stage at 6:00 pm
The Batavia Community Band  starts their patriotic music at 8:15 pm
2016 Sky Concert begins at 9:30 pm
---
We have our music! Please give a warm welcome to the band We're Not!
We're Not covers hits (and, sometimes, obscurities) from the 70's through today. We play what we like because if we're not having fun, what's the point?
From Neil Diamond to New Politics, Cheap Trick to Charlie XCX, Tom Petty to Taylor Swift – with a special affinity for 90's and 00's alternative – we put our own pop punk spin on everything we play.
It might not sound like the radio, but it'll get you out of your seats!
Check out their Facebook Page and help us welcome them to our 4th of July tradition. You should give them a 'like' while you are there, too!
After We're Not's set, the Batavia Community Band will be playing all the American classics to set the mood for our Sky Concert. Show them some support by 'liking' their Facebook Page!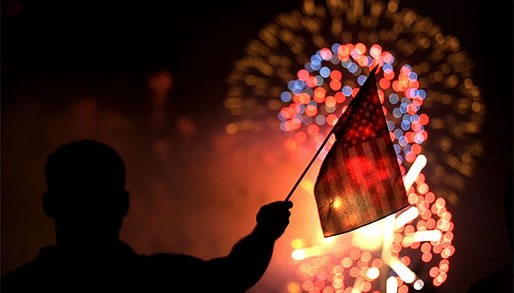 Our theme this year is Flag and Country in honor of the 100 year anniversary of our nation's flag. Keep an eye out for details on all the Flag Day events Batavia will be having leading up to our Sky Concert!
---
The City of Batavia is proud to host one of the most celebrated 4th of July fireworks productions in the western suburbs of Chicago, which we proudly call the "Sky Concert." It has a more than 50-year history of being produced and paid for by local citizens. Today, the show is provided under the auspices of the Batavia ACCESS Committee. The show is paid for with private donations and fund-raisers. While the City of Batavia incurs costs for police and fire safety, no tax dollars are used to pay for the pyrotechnics.